Heavy duty pneumatic up stroke crosscutting machine for programmable and repetitive cutting of packaged to length timber.
Optional: Photocell sensor for automatic length recognition with full optimising software for maximum length, priority length, minimum waste and volume. Photocell sensor for use with fluorescent crayon for defecting and removing defective parts
Schneider control system comprising of an industrial 7.5" touch screen controller, inverter, servo-motor and "PRO-MOTION" heavy duty belt feeding system.
Schneider Magelis controller with automatic calculation software, self-diagnostic error messages and sensor position monitoring.
TELE-SERVICE: Secure online support, fault detection, fault elimination and maintenance support
Precision +/- 0.5mm.
6 metre capacity in-feed table 400mm wide
3 metre out-feed table 400mm wide and fence
Servo motor to feed system
Positioning speed 60m/min
Two pneumatic lateral clamping cylinders with independent pressure control
Hinged safety hood with electrical interlock
Pusher with optional trim cut capability
HM (TCT) saw blade 600mm diameter Z60
Standard Features:
Siemens main motor 7.5kw (10hp)
Automatic star/delta switch
Motor overload relay
Safety contacts on doors
100mm diameter extraction outlets
Blade safety guard with pneumatic clamping device
Saw blade feed speed manually adjustable
CE NORMS
Air consumption 7 litres per cycle, constant 6 bar, 10mm diameter supply hose
Electrical requirement 9.8kw, 32amps 3-phase, neutral and earth
Dust extraction requirements 2400 cfm
The ProfiCut range of automatic crosscutting machines are well established in the UK market, first introduced in 2003 they are now in operation in many of the leading manufacturers nationwide.
Pallet & case manufacturers
Furniture manufacturers
Garden building manufacturers
Timber frame manufacturers
Timber suppliers
Renowned for its build quality and premium German made component parts this range of crosscutting machines have proven to be extremely reliable, consistently delivering a high level of accuracy and production.
All ProfiCut Automatic Crosscutting Machines are supplied with a 2 year warranty as standard.  Subject to 12 month annual service, chargeable.
Multiple pieces can be cut simultaneously. The pneumatic roller clamps with continuous side pressure reduce cycle times and ensure a square cut every time.
The Schneider Magelis touch screen controller makes the writing and running of programmes simple and fast.Option: Remote programming with PC or laptop link via ethernet cable or wireless connection including Schneider Vijeo Data Design Manager software.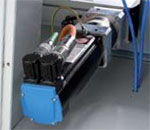 SERVO driven feed system developed to exacting standards.
The ProfiCut XSO PLUS is built using only quality component parts supplied by Telemecanique,Festo, SKF and Siemens.
Options:
| | PROFI CUT X50 | PROFI CUT X60 |
| --- | --- | --- |
| Saw Blade | 500 mm | 600 mm |
| Saw Blade Motor | 7,5 kW | 7,5 kW |
| Positioning Speed | 60 m/min | 60 m/min |
| Positioning Accuracy | +/- 0,5 mm | +/- 0,5 mm |
| Infeed Table | 6000 mm | 6000 mm |
| Air Pressure | 6 bar | 6 bar |